We BRING the OCEAN to YOU!
Specializing in EXOTIC saltwater fish and coral since 2016, Palmetto Reef can help you create your own amazing reef at home!
In- store pick up available at 302 Charleston HWY, West Columbia, SC 29169
$25 in state over-night shipping
$45 out of state over-night shipping
Minimum $200 for box to be shipped
Free Shipping on orders of $500
All live items are shipped by FedEx or UPS through Priority Overnight Service, Monday- Thursday and usually arrive by 10:30am EST
High-end, Pest-free, HEALTHY, aquacultured corals every time!
Healthy Corals = Happy Customers = Happy Reefing
Meet the Palmetto Reef Team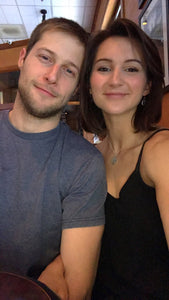 Will and Ashley
Will and I dove head first into owning a saltwater aquarium in 2015. What started as a whim of an idea eventually grew into a business in a FLASH. We started with a 72 gallon bow front mixed reef tank,then added a 32 G BioCube with seahorses, and then Will wanted ANOTHER tank....to which I said not in our third floor apartment....lol. We were blown away at what we could grow and found out very quickly that we both had "blue thumbs". Through trial and error and A LOT of research we learned everything we know about marine fish and coral.... an obsession is an understatement. Soon enough we started experimenting with fragging corals and before we knew it, Palmetto Reef was born August 29th, 2016!
Dan
Former Marine Biology student, Dan has been reefing since 2014. He found our store in 2017 and never left! Immediately we knew he shared our passion and knowledge for reefing and he joined our team. After a little over a year working with us he made partner and our adventure continues.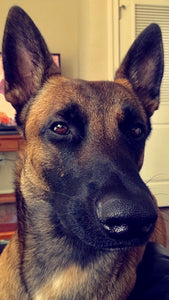 MAX
Let's be honest....everyone REALLY comes to the store just to see Max! Retired search and rescue, Max has been apart of the store since day one! He is seven yrs old, and you can always find him on the store sofa!
For the customers who have seen the transition of the store since the beginning it has been constant 'tank-tetris', additions and renovations! We love our customers and what we do, and if you are questioning getting into this amazing hobby do not hesitate to give us a call or stop by the shop! We have experienced anything and everything you might encounter in this hobby--which is why we opened the store- So we can help others grow a healthy, happy, and thriving reef tank!
Location
PALMETTO REEF
302 Charleston Highway
West Columbia, SC 29169
803-542-7447
Mon - Tues, CLOSED
Wed- Saturday, 11am - 6pm
Sunday, 11am - 5pm